Foccacia with Red Souce needs:
1¾ cups warm water
2 1/2 teaspoons yeast
1 tsp honey
1 tbl olive oil
4 1/2 cups all-purpose flour
1 garlic clove, finely minced
2 tsp salt
1 (24 oz) jar red sauce
Pre-heat oven to 375º. Put the water, yeast, honey,
oil and 1½ cups of flour in a bowl and mix. Whisk together. On top of that add the rest of the flour, salt and garlic but do not stir. Cover with a clean towel or plastic wrap and leave for 20 minutes
Mix the dough together and knead the dough for 4-5 minutes.
The dough will feel soft and slightly sticky. Cover and leave for 1½ hours or until the dough has doubled in size. Lightly oil a 9″x13″ pan.
Punch down the dough and spread evenly over the base of the pan. Cover and leave to rise for 45 minutes or until puffy. Carefully dimple the dough with your fingers and gently spread Red Souce. A few torn up leaves of fresh Basil makes a great addition.
Bake in a 375º oven until edges are golden, about 20-25 minutes. Let cool slightly then serve.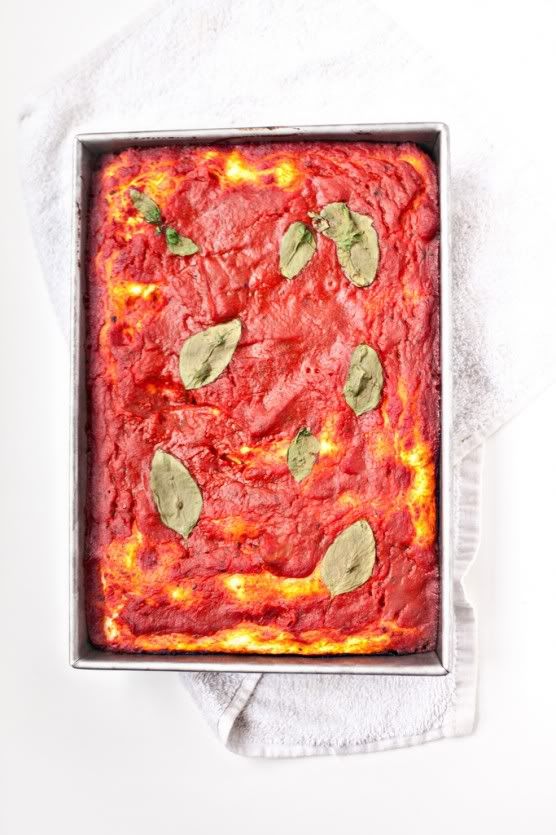 Source: NotwithoutSalt